Declassified and another celebrity
Mood:
a-ok
"Declassified" is finally airing on the History Channel, so check it out every Thursday night at 10pm or Fridays at 2am (but who's up that late?). www.tenworlds.com
I saw Lisa Leslie in the Apple Store yesterday. Maybe her New Year's resolution was to switch over to Mac, because she was bringing a lot of attention to herself as she was spread out over a computer display table. I walked out of the backroom and saw her immediately. She was sitting on a stool in a jump suit with a tall black man, and they were taking over the entire table, which clearly indicated they were of some status because I have never seen that before. She had her PC laptop sitting next to a new Powerbook.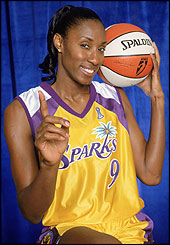 Posted by Whitney at 5:53 PM PST